The South Island's biggest winter multisport event, now in its 28th year, attracts a strong field of competitors. Individuals, teams, schools and now tandems, race by ski/snowboard, mountain bike, kayak, foot and road bike from the top of the Remarkables Ski Area to Coronet Peak. The course encompasses snow covered mountains, steep gravelled and tarmac ski field access roads, State Highways and tarmac rural roads, public reserve, public walking/cycling tracks, and Lake Wakatipu.
STAGE 1 - SKI/BOARD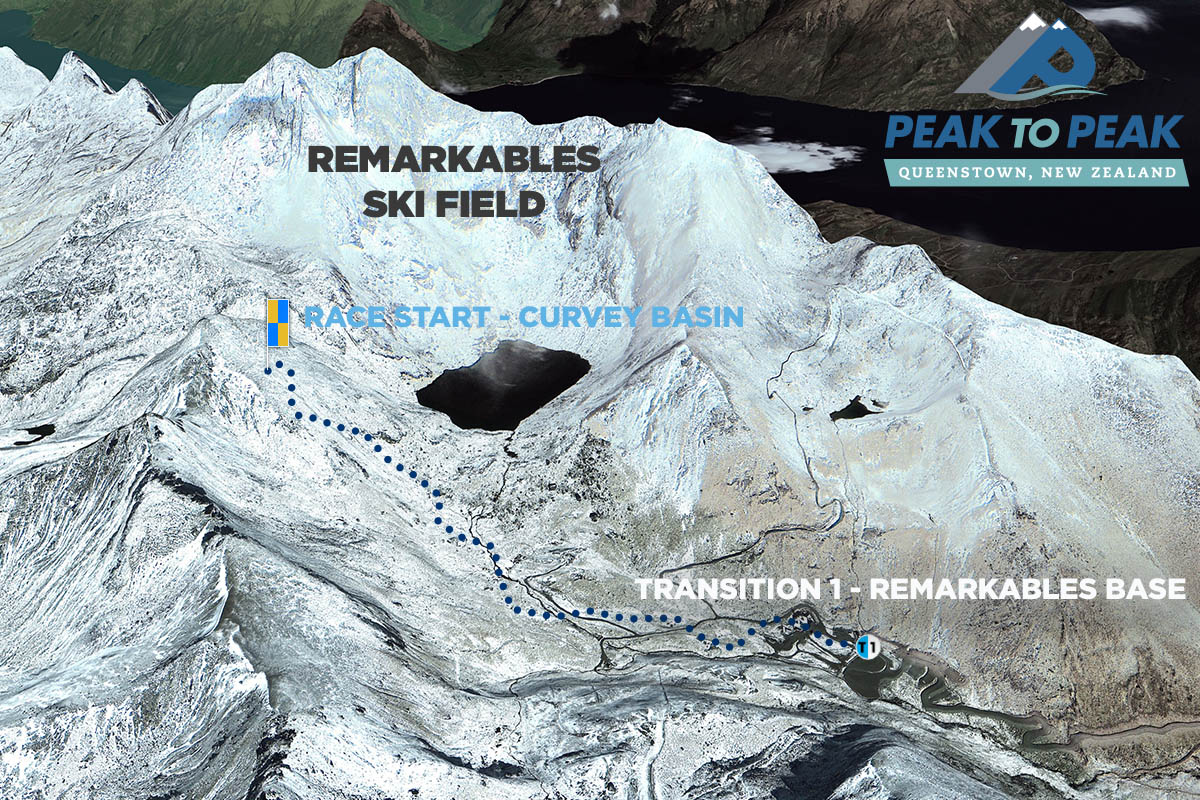 STAGE ROUTE
* Run down to equipment and theN ski/board down to the bottom of ski course    * Ski start varies according to snow CONDITIONS & REMARKABLES SKI PATROL GUIDELINES    * SKI/BOARD COURSE WILL BE MARKED BY PATROL BEFORE THE START, FOLLOW THE MARKERS    * OBEY ANY OUT OF BOUNDS SIGNS AND SLOW SIGNS AS YOU APPROACH THE BOTTOM OF THE SKI FIELD
STAGE Rules
* SKI Helmets compulsory    * COMPETITORS MUST BE AT THE TOP OF CHAIRLIFT AT LEAST 15 MINUTES BEFORE THE START (FREE 1-WAY UPLIFT PROVIDED AS PART OF ENTRY FEE)    * RECOMMEND COMPETITORS ARE ON THE chairlift NO LATER THAN 12.20Pm    * Lay skis/boards out AS indicated BY MARSHALS    * WALK TO START LINE AS INDICATED BY MARSHALS    * COMPETITORS MUST STOP AND REMOVE SKIS, AS INDICATED BY MARSHALS, BEFORE ENTERING TRANSITION 1    * NO TRANSITION TO BIKE TO TAKE PLACE OUTSIDE DEDICATED TRANSITION AREA
STAGE Notes 
* COMPETITORS ARE RESPONSIBLE FOR REMOVAL OF ANY PERSONAL EQUIPMENT    *  Competitors must arrange for ski/BOARD equipment to be brought down off the SKI FIELD    * Remarkables Ski Patrol are responsible for ski safety, course clearing and design    * CAR PARKING AND TRANSITION LOCATION WILL BE DECIDED BY REMARKABLES SKI PATROL AND TAKE INTO CONSIDERATION AVALANCHE RISK AND OVERALL SNOW CONDITIONS    * SUPPORT VEHICLES MUST CARRY CHAINS AS PER NZSKI GUIDELINES
STAGE 2 - BIKE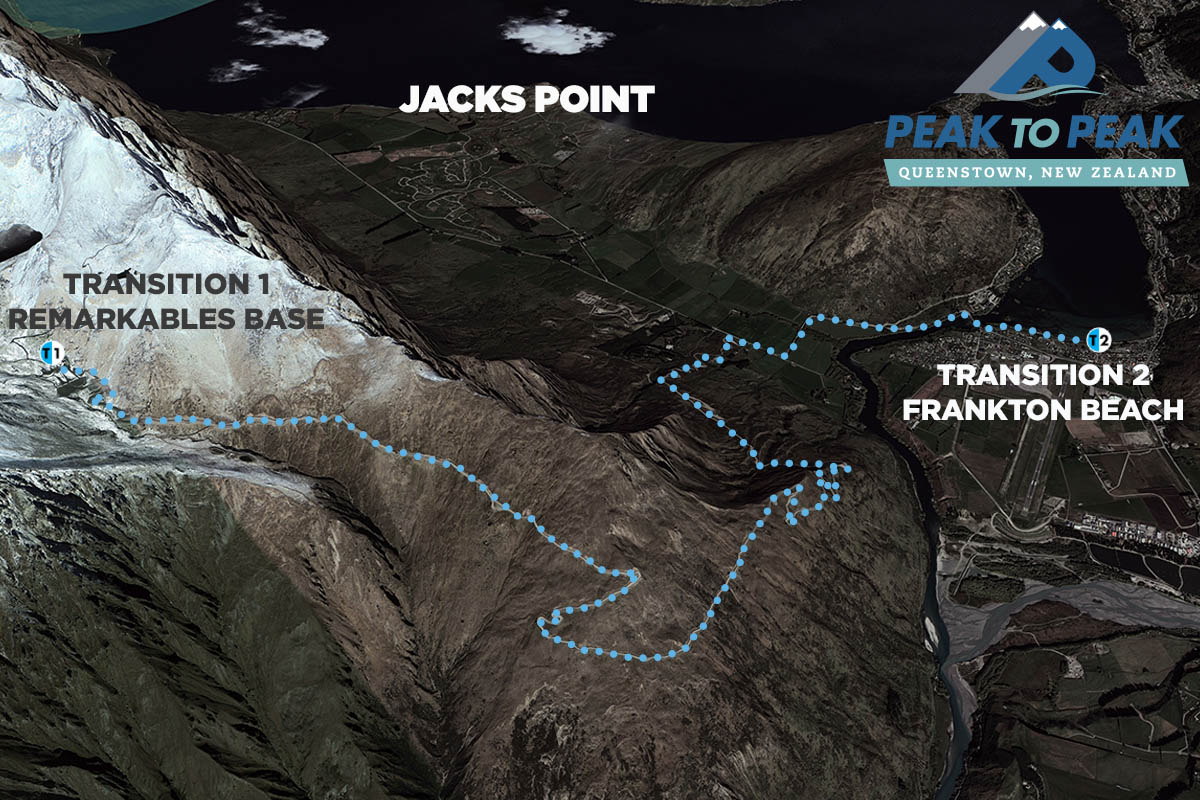 STAGE ROUTE
* bike from bottom of ski course down the access road to Frankton Beach    * This is a mountain road with no guardrails in some cases    * It may have snow and ice on the upper sections while the lower sections can be fast and have loose gravel in places    * Beware of your speed, you may be going faster than you think    * At the bottom turn right on to State Highway 6 and bike along towards Kawarau BridgE    *
Follow marshals directions on to the old Kawarau Bridge using the footpath and then cycle trail down to the waterfront below remarkables primary school    * the transition area is along the beach area
STAGE Rules
* Helmets must be worn    * Competitors must ride single file unless passing    * Road is closed for uphill traffic only from approximately 12.30 – 1.30pm (a nzski.com road patroller will be in charge of the closure and its exact timing) but cannot guarantee no traffic at all    * obey the road rules and Ride with respect to the conditions
STAGE NOTES
* The access road is open to assistants & SUPPORT CREWS traveling downhill during the event    * Drivers please be very aware of cyclists passing you on the road, give way to cyclists    * St Johns follow the competitors down the road    * Normal road rules apply on the mountain road & on State Hwy 6    * Only one car per team/individual allowed in to Frankton Beach car park
STAGE 3 - KAYAK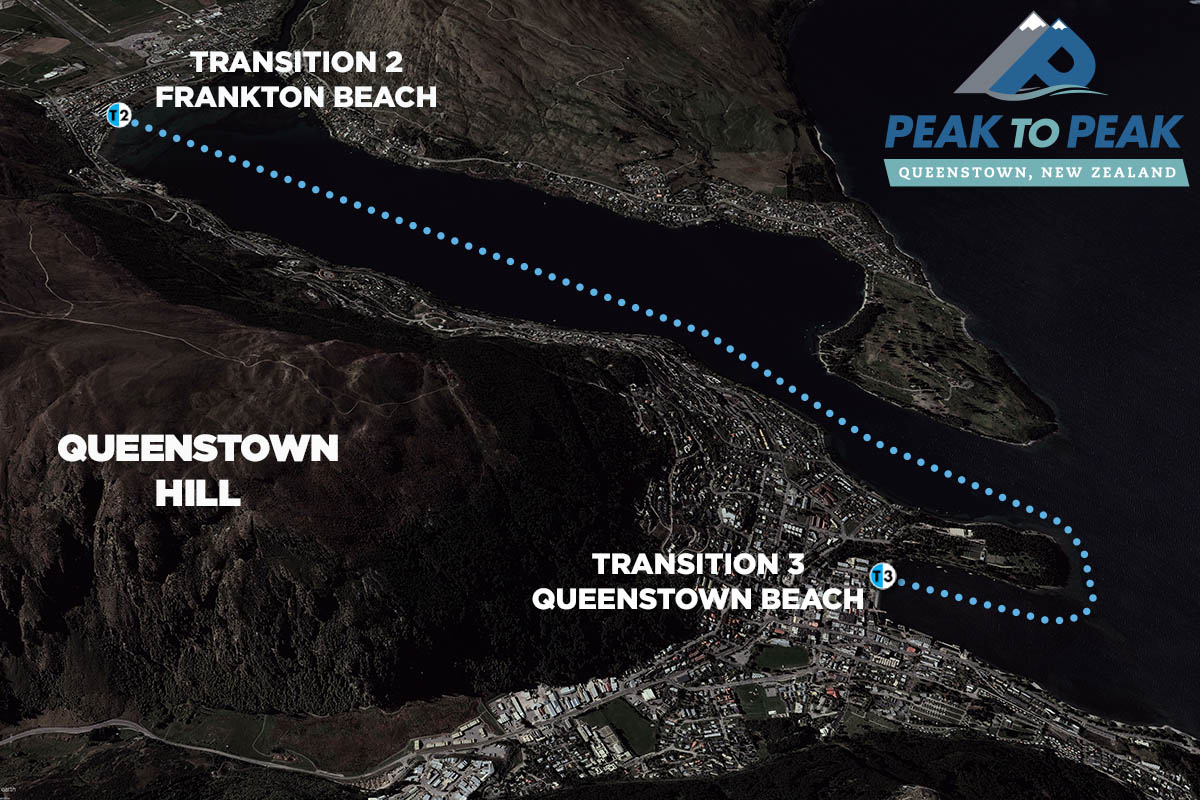 STAGE ROUTE
* Kayak from Frankton Beach to Queenstown    * Beware of the rocks just on and under the water surface rounding the peninsula    * The finish of this stage is on the Queenstown Beach    * Rough Weather Alternative 1: paddle from far end of Frankton Beach up the shore line to finish at end of walking track/ small stone jetty in the Narrows    * Rough weather Alternative 2: if it is deemed 'too rough' for paddling at all, a run will be substituted
STAGE Rules
* PFD/life jacket compulsory (see race rules for minimum specifications)   * Raise paddle for assistance    * if in doubt of your ability, stay reasonably close to the shore    * Competitors Should assist other competitorS in trouble on the lake    * kayaks must have an internal form of buoyancy or sealed bulkheads    * spraydecks must be used in kayaks
STAGE NOTES
* Kayaks can be dropped off at Frankton Beach from 10.30am    * parking in queenstown is very limited and tight. try to take the kayaks away from the beach area in an orderly manner without upsetting any tourists!
STAGE 4 - RUN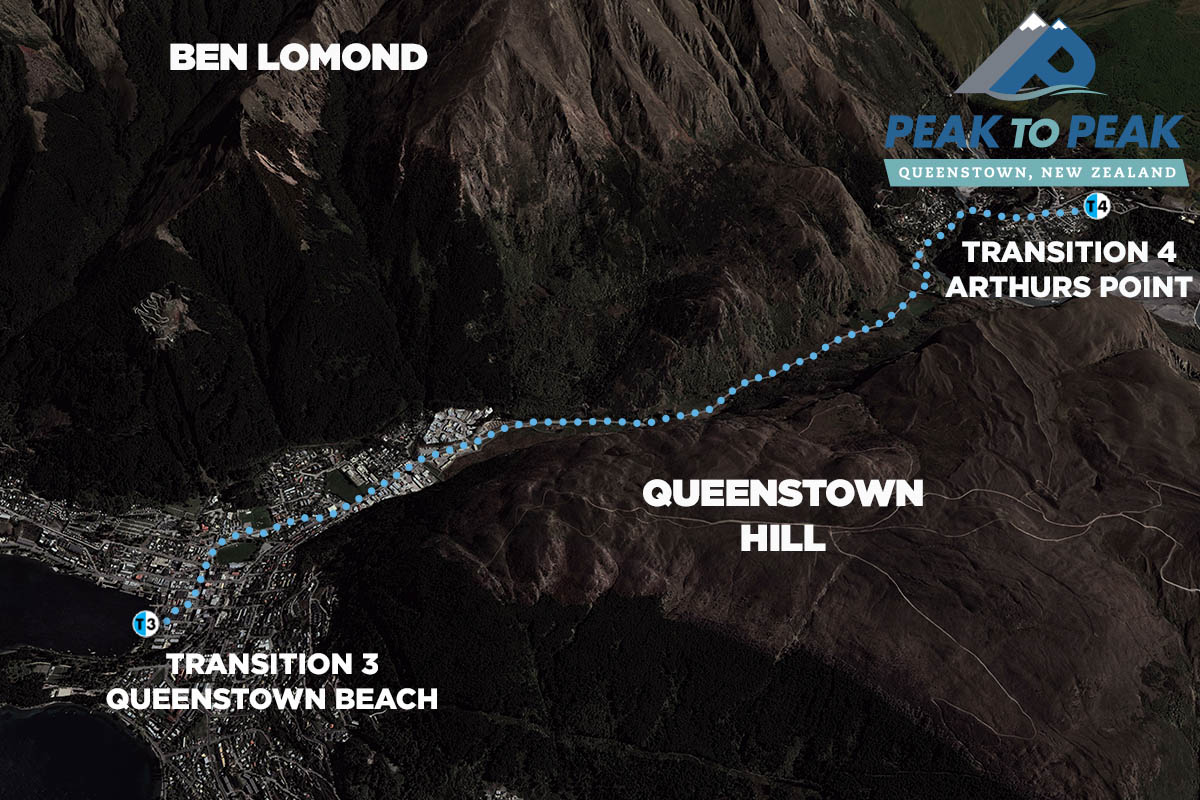 STAGE ROUTE
* Competitors must turn left from the main beach, and run along a coned off area on Marine Parade, Rees Street and cross via the pedestrian crossing into Duke Street and into upper Camp Street and Isle Street to join Gorge Road    * Using footpaths and pedestrian crossings where availablE    * Run on the left hand side of Gorge Road on gravel track to the Swiss Bell-Resort Coronet Peak    * Extreme caution on road crossing of cavells bridge
STAGE Rules
* Please follow road and pedestrian rules    * Be aware of traffic on roads, especially at intersections and Take all due care crossing roads – competitors have no right of way    * Run on gravel track up Gorge Road (stay off the road)
STAGE Notes 
* Only one car per team / individual allowed in SWISS BELL-RESORT CORONET PEAK car park    * ALL other parking around transition to bike must be done in a manner not to block the road for other drivers
STAGE 5 - BIKE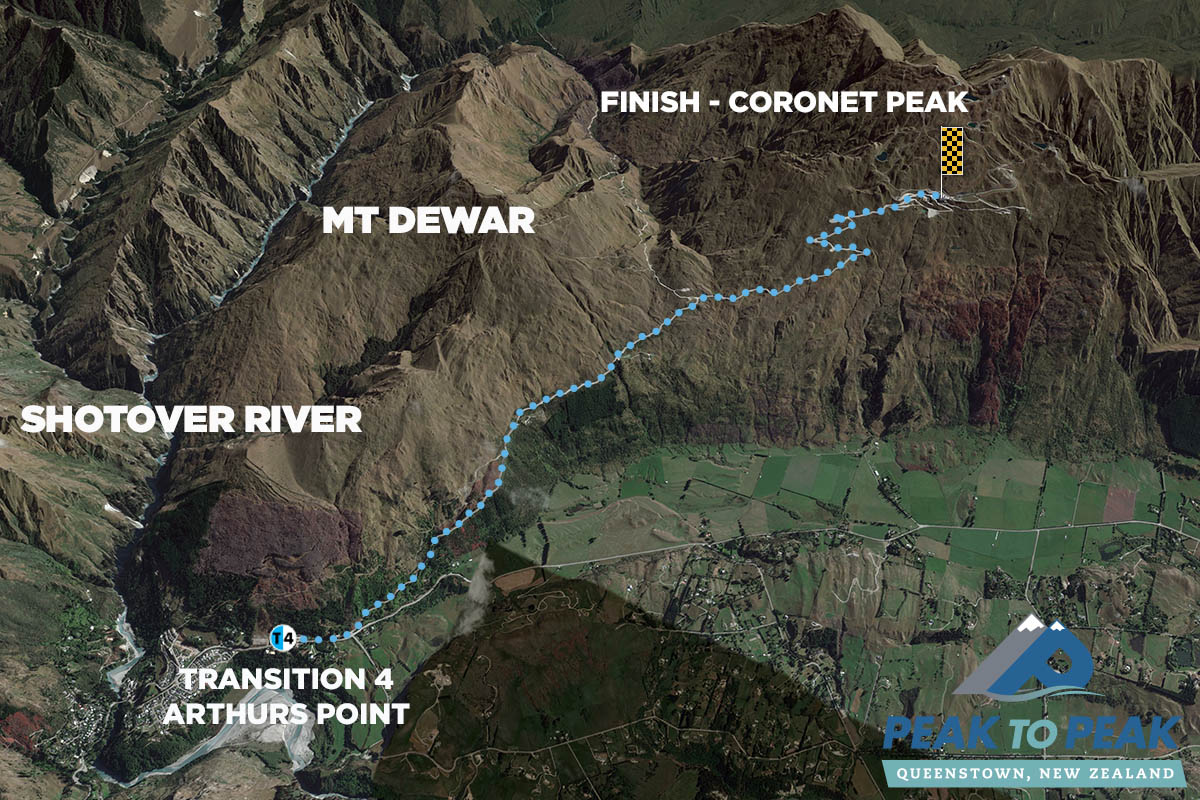 STAGE ROUTE
From SWISS BELL-RESORT CORONET PEAK to Coronet Peak ski area    * Finish on snow at Coronet Peak outside base building
STAGE Rules
* Normal road cycling rules apply    * Helmets must be worn at all times    * Any style of bike can be used    * Bikes cannot be changed during the stage    * Teams may not substitute riders during the stage    * school teams are permitted one switch over at skippers road turn off    * cars are not permitted to follow or lead riders up the hill    * spectator parking only in chain bays only, do not block the road    
STAGE Notes 
Assistants/Competitors do not have parking privileges at Coronet Peak, please park sensibly    * SUPPORT VEHICLES MUST CARRY CHAINS AS PER NZSKI GUIDELINES
 * Fast times are estimates and exclude transition stops!